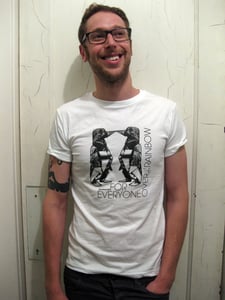 $

13.00
Printed on 100% cotton sweatshop-free and union made white tees! The shirt's design features a variation on our trademark penguins and our slogan "For Everyone Over The Rainbow!"
Every shirt sale goes to support thenewgay.net so we can keep bringing you the content you love!
**Every order will come with 2 TNG buttons so you can rock your TNG love!
These t-shirts are available for $18 to US Residents, SHIPPING INCLUDED. International buyers please add $5 for shipping.
* Products are shipped by US Postal Service priority mail allow up to 2 weeks for delivery! If you have not received your product within 2 weeks, please notify us.